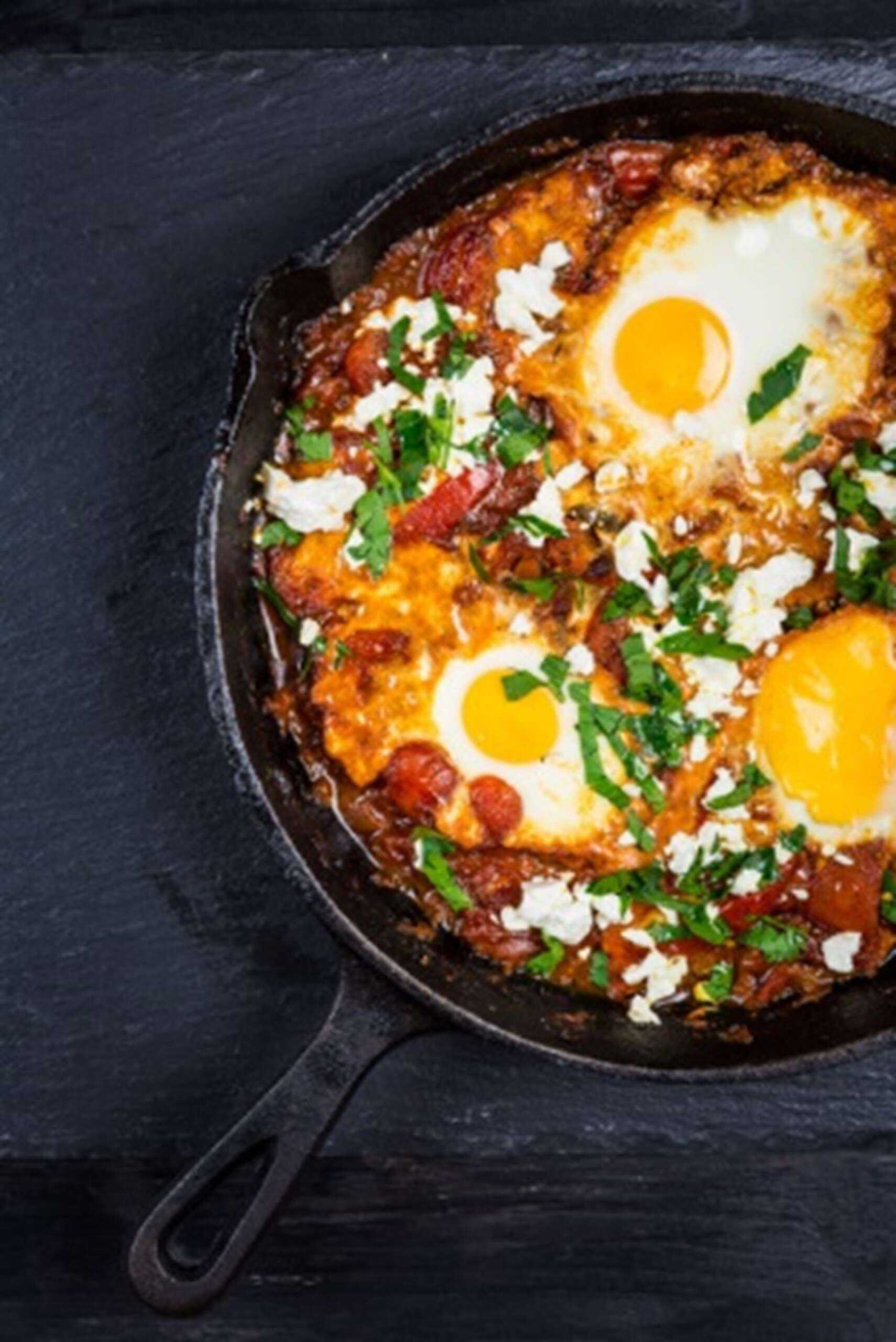 2 tablespoons olive oil
800g tomatoes (in season) chopped + ½ cup tomato passata
OR
850g can chopped tomatoes
2 peppers, cut into chunks – preferably green but red, orange or yellow work
1 large onion, chopped
2 cloves garlic, chopped or minced
1 teaspoon ground coriander
1 teaspoon paprika
½ teaspoon ground cumin
½ teaspoon turmeric
¼ teaspoon smoked paprika
¼ teaspoon red chili flakes
Salt and freshly ground black pepper
4 large free-range eggs
A handful of freshly chopped parsley and mint (for garnish)
Heat olive oil in a large frypan (preferably cast iron) over medium heat. Add onions and garlic and gently fry for 2 minutes. Add peppers and spices, stirring occasionally until vegetables have softened, about 5 minutes.
Stir in the chopped tomatoes and passata. Turn down the heat to low, cover and simmer for 15 minutes.
Taste the mix and adjust seasonings with salt and pepper to your liking. Simmer uncovered for a further 5 minutes to thicken the sauce.
Make four "holes" in the mixture with the back of a spoon. Gently crack an egg in each of the holes. Cover and continue simmering until the egg whites have set, about 5 minutes. You can cook the eggs to your liking – I like my yolks runny, but you can cook them until they're set if you prefer.
Uncover and scatter with freshly chopped parsley and mint. Serve directly from the pan, with some bread of your choice on the side to mop up the deliciousness!