Chicken and vegetable stew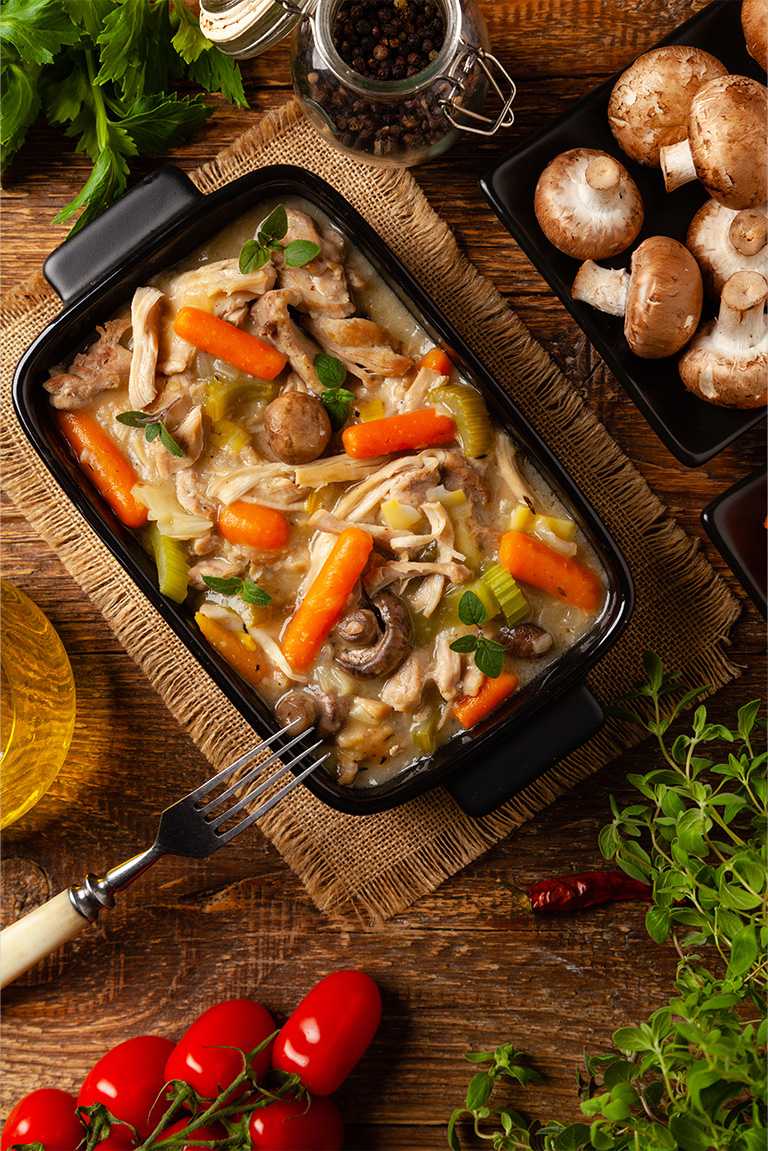 Chicken and vegetable stew​
2-3 tablespoons olive oil
8 boneless organic, skinless chicken thighs
2 brown onions, roughly chopped
3 cloves garlic, finely chopped or pressed
3 tablespoons of cornstarch (or arrowroot)
1 teaspoon salt
1 teaspoon freshly ground black pepper
1 teaspoon dried tarragon
2 bay leaves
½ cup dry white wine
2 cups gluten-free chicken or vegetable stock
250g swiss brown mushrooms, whole or halved
16 baby carrots or 4 big carrots, peeled and sliced into chunks
3 sticks celery – roughly chopped
1 tablespoon freshly squeezed lemon juice
¼ cup (60ml) cream or coconut cream (optional)
Fresh tarragon, chopped
Add 2 tablespoons olive oil to a fry pan over medium-high heat and brown the chicken thighs on both side Transfer to the slow cooker.
In the same fry pan, add a little more oil if needed and sauté onions, garlic, mushrooms, carrots and celery.
Add wine. Allow to bubble up, then add the chicken stock.Stir and bring to a
Put the cornstarch in a cup and add 1-2 tablespoons of cold water. Stir with a fork until cornstarch is mixed thoroughly with the water.
Turn down to medium heat and slowly add the cornstarch mixture, stirring constantly until blended into the boiling liquid.
Add the salt, pepper, dried tarragon, and bay leaves.
Tip the vegetables and sauce into the slow cooker over the chicken.
Add lemon juice and give a final
Cover andcook on low heat for 5-6 hours or 4-5 hours if using chicken breasts.
Once cooked, taste and adjust seasonings, adding salt, pepper or a little extra lemon juice if needed.
Pull the chicken apart with two forks, then stir in the cream or coconut cream (if using).
Serve with a scattering of fresh tarragon leaves, steamed green beans and mashed sweet potato.
This dish can be made ahead and stored in the refrigerator for up to 2 days. It also freezes well.