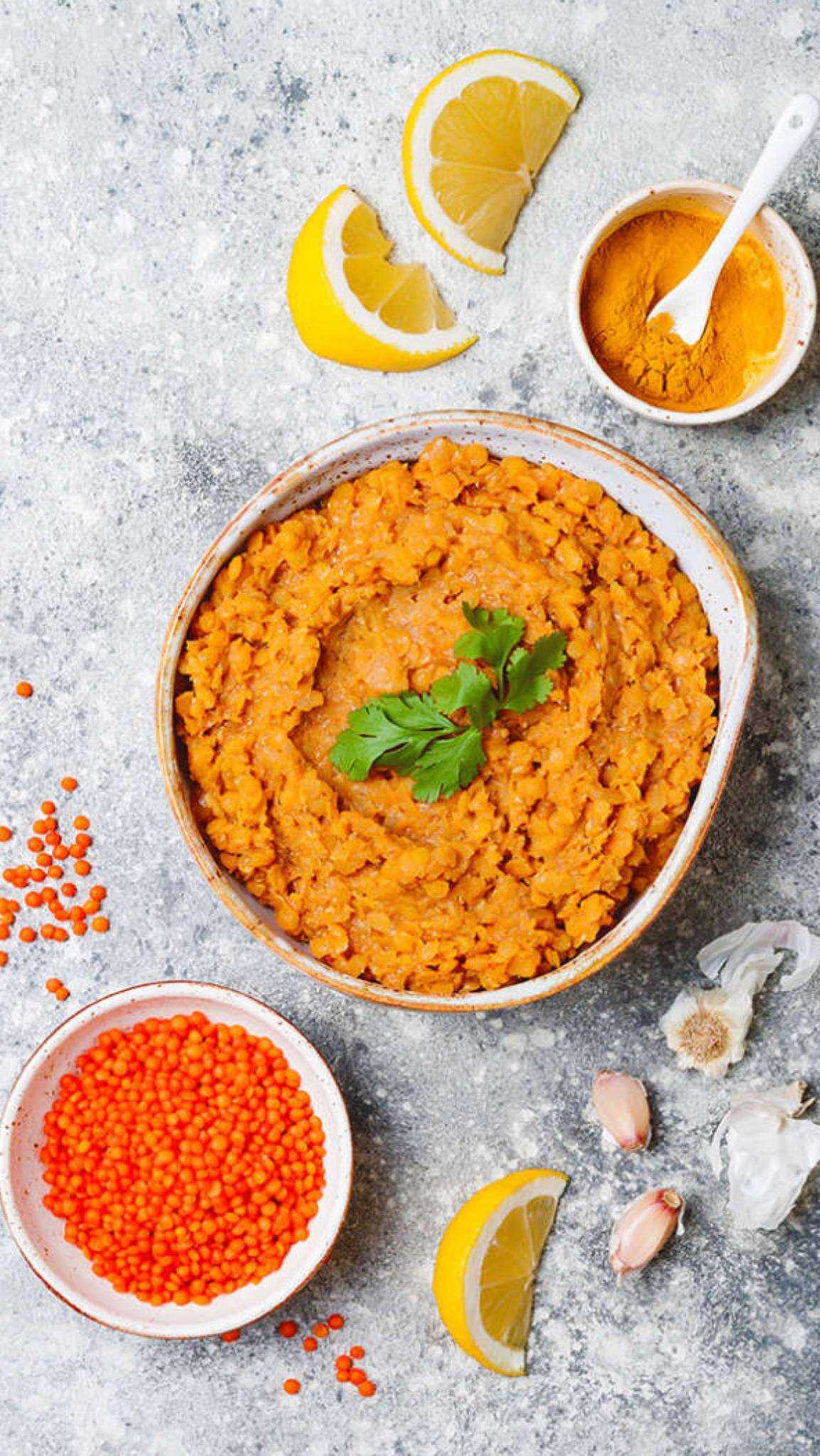 1 cup (210g) red lentils, rinsed well
5cm fresh ginger, finely chopped
2 bay leaves
1 cinnamon stick
2 tablespoons coconut oil
1 large onion, chopped
3 cloves garlic, crushed
2 teaspoons turmeric
½ teaspoon black pepper
1 teaspoon cumin
½ teaspoon coriander seeds
½ teaspoon mustard seeds
½ teaspoon garam marsala
½ teaspoon chilli flakes
½ cup gluten-free vegetable stock
200ml coconut milk
2 tablespoons lemon juice
½ – 1 teaspoon salt
Bunch of fresh coriander
Place lentils, ginger, bay leaves and cinnamon in a large saucepan with 3 cups of cold water. Bring to the boil, reduce the heat to medium and simmer, stirring to prevent sticking, for 10 Remove any froth that forms on the surface.
While the lentils are simmering, heat the coconut oilin a large frying pan over medium high heat.
Add the onion and cook for 3 minutes.
Stir in the garlic, turmeric, black pepper, cumin, garam marsala and chilli flakes and cook for a further minute or until fragrant.
Remove the cinnamon and bay leaves from the lentils and discard. Add the lentils with the cooking liquid to the frying pan and stir through.
Stir in the the vegetable stock, coconut milk and lemon juice and season to taste with salt.
Simmer for a further 3 minutes. Add extra water if consistency is too thick or simmer a little longer if too thin.
Serve with a scattering of chopped fresh coriander leaves and a side of fragrant basmati rice.
When adding the lemon juice, add 2 big handfuls of fresh baby spinach and stir through to wilt.