Poke bowl with fresh salmon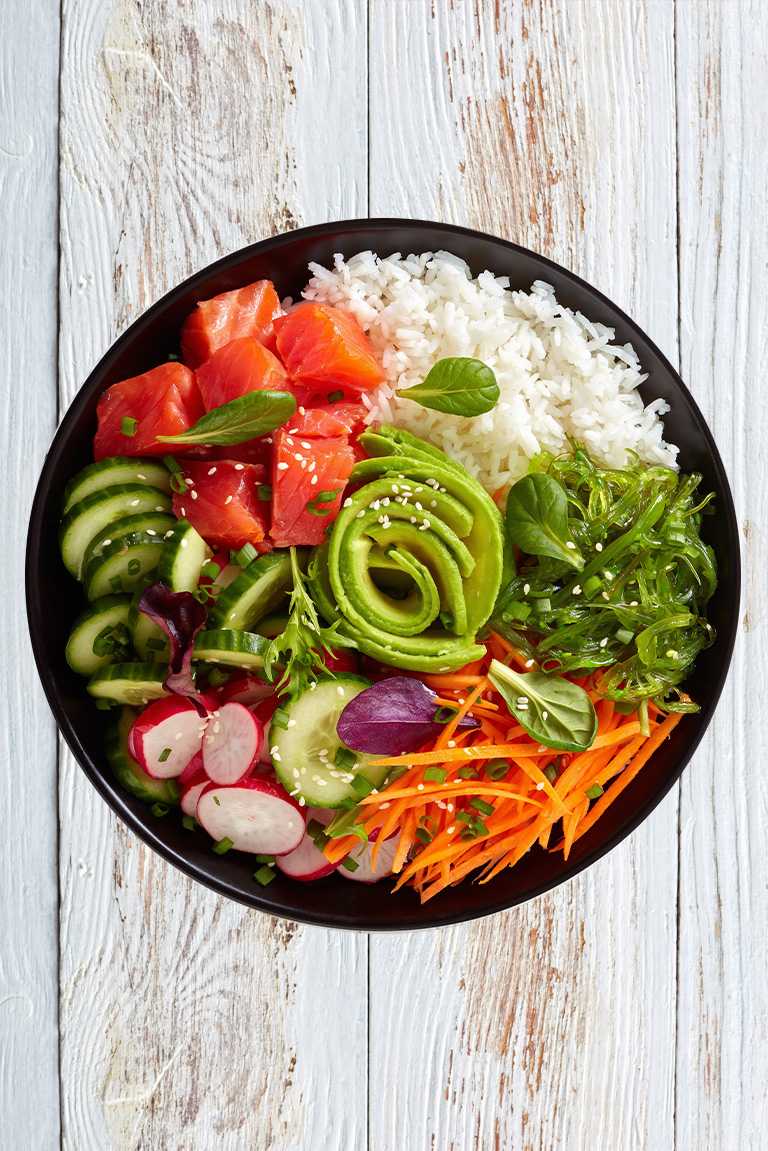 Poke bowl with fresh salmon
1 cup rice, cooked as per instructions on packet
200g wild Alaskan salmon, cut into 2cm chunks
1 avocado, thinly sliced, ½ per person
A handful each of raw vegetables: radishes, cucumbers, carrots, red cabbage, spring onion, thinly sliced or julienned
A handful of mixed sprouts
2 tablespoons sesame seeds, dry toasted
1 garlic clove, pressed
2 teaspoons fresh ginger, grated
4 tablespoons mirin
4 tablespoons tamari
½ cup lemon juice
2 tablespoons rice vinegar
1 large spring onion, thinly sliced
To make the sauce for the poke bowl, whisk together the garlic, ginger, mirin, tamari, lemon juice, rice vinegar and the sliced spring onion together in a large mixing bowl.
Marinate the salmon for 30 minutes in ¼ cup of poke sauce then pan fry the salmon until cooked.
Divide the cooked rice between the bowls.
Top with the sliced vegetables, each in a separate pile.
Add the avocado slices and fan them out – it looks pretty!
Divide the cooked salmon between the bowls.
Dress each bowl with a couple of tablespoons poke sauce.
Garnish with mixed sprouts and a sprinkling of toasted sesame seeds.
Serve with extra poke sauce on the side to add as desired.
Cook rice of choice as instructed on the package. It can be served warm or cold. You can also substitute the rice for other grains, like bulgur wheat or quinoa. Even cauliflower rice works, if you like that.
Change up the ingredients: cubed mango, boiled egg slices, shredded omelette, edamame beans, baby spinach, broccoli florets, cherry tomatoes, sliced spring onion, cooked chicken chunks; all work really well with the sauce.
To dry toast sesame seeds, heat a fry pan until hot. Add the sesame seeds to the dry pan and using a spatula, keep moving them around for a couple of minutes or until they are golden. Be careful not to burn them; this goes very fast!